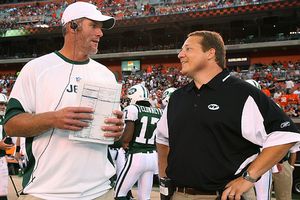 This may seem a bit late. After all, it has been nearly two weeks since Eric Mangini was shown the door out of New York, only to find his way through another door leading to Cleveland.
However, in those two weeks there has been a growing sense of acceptance for Eric Mangini as everyone's patience wears thin with Brett Favre.
Much like any great tragedy, there must be a protagonist who's victimized by the malicious actions of the villain. And make no mistakes about it—the story of the New York Jets is one of the NFL's great tragedies.
But this idea—this concept—of turning Eric Mangini into a hero who was unceremoniously dismissed from a job he deserved is a gross misrepresentation of who he really was as the New York Jets head coach.
Brett Favre was dismal in the final five games of the season, but he wasn't the only problem. Yet, this fallacy has reigned supreme amongst NFL fans in recent weeks.
And fans are buying into it. Since being fired, it's reported that Mangini never wanted Favre on the Jets—yet his newborn son has Brett for a middle name in Favre's honor.
"Well, the history behind that is all my kids have middle names that are related to people that have been important to me in my football career," said Mangini after his child was born.
He was just as mystified by Favre as all of his apologists are.
A Cleveland Browns organization starving for consistency may be excited with the prospect of bringing in a coach who's had two winning seasons in three years, but they must know that they're not getting an absolute winner.
They're getting a man of the Parcells-Belichick mold, but in the form of a cheaply made replica. He may present similar qualities to an extent, but when examined closely, it becomes obvious that he's not as well-polished.
The Origin of the Mangenius
When Mangini took over a 4-12 football team in 2006, he led the Jets to a 10-6 record and a playoff berth. He found diamonds in the rough, and helped great players emerge upon his arrival.
Jerricho Cotchery jumped to the no. two receiver spot after riding behind Justin McCareins, and he excelled. Bryan Thomas was looking like another first round draft blunder until Mangini placed him as an outside linebacker. Kerry Rhodes had shown potential, but it was Mangini who discovered how great he was on a blindside blitz.
Chad Pennington was eventually named Comeback Player of the Year, and the entire team was making strides as they adopted new systems on both sides of the ball.
Bringing in the 3-4 defensive alignment, Mangini and company struggled with making it work as the team had been filled with 4-3 personnel throughout the Herm Edwards era. There were undersized players in crucial positions who were thrown around and neutralized.
In order to mask those weaknesses, Jets fans witnessed something they had never seen their team do—motion on the defensive side of the ball. Complex packages were thrown at the offense as linebackers shifted and roamed the field. Were they going to blitz or drop back into coverage? No one knew. It was exciting.
Mangini took chances. New York would go for it on fourth down, and surprise the other team with onside kicks early in the game. He took chances, and refused to be intimidated.
Out-coaching Bill Belichick in New England as the Jets beat the Patriots for the first time in forever cemented his reputation as an NFL prodigy.
The Ego of the Mangenius
After the successful 2006 campaign, Jets' fans were riding high. There were things New York could improve upon, but the speculation was that the team was only a few players away.
In comes Thomas Jones to serve as a true running back in the post-Curtis Martin era. Then came the NFL Draft where we moved ahead to select shutdown cornerback Darrelle Revis and Michigan-product David Harris—two cornerstones of the Jets defensive future.
And then everything went wrong.
Veteran offensive guard Pete Kendall wanted the new contract that was promised to him after taking a paycut, and no one cared. He was eventually traded away and replaced by a nobody who everyone knew wasn't a viable option as a starter. And the Jets fell to 4-12.
It was his impressive season as a rookie coach that led him to believe he could repeat his success with the same misplaced players. DeWayne Robertson was not built to be a nose tackle in the 3-4 alignment. And former Defensive Rookie of the Year Jonathan Vilma wasn't free to be the sideline-to-sideline defender he was in the middle of the 4-3 alignment.
New York suffered, and cleaned house in the offseason. Players who no longer fit were finally released, and the well-documented spending spree began.
His ego would carry through to 2008 when it was reported that Mangini chose to rework his entire strategy after New York dropped a home game to the Denver Broncos.
The Reality of the Mangenius
With an abundance of new players on the roster, New York no longer had any excuses. Mangini brought his personnel to the team, players he selected and wanted. Now it was his turn to bring back the intelligence that made him a candidate for Coach of the Year in 2006.
And his true colors were on display from the onset.
The New York Jets had no fighter spirit. He had the same strategy and gameplan he provided in 2006 when the Jets were surprising everyone.
It became clear that Mangini could evaluate talent—that he could find great players with pure football skills—but he had no idea how to utilize them properly.
Linebackers weighing nearly 270 pounds were inexplicably dropped back into pass coverage as if their role wasn't to rush the quarterback. Kerry Rhodes was left to roam the secondary as protection against being burned by a big play as if he's not exceptional off the edges.
And then came the December debacle. The Jets went to San Francisco and played a reeling 49ers team as if they were the 2007 Patriots.
Mike Singletary and friends made it clear that they wanted to win the second they chose to start the game with an onside kick. Eric Mangini responded by going three-and-out and electing to punt while inside 49ers territory on fourth-and-short. No fighter spirit.
Mangini made a cautious decision against a team who wasn't planning on playing by the book—a team who wanted to win. And it set the tone for the remainder of the game. San Francisco demoralized New York.
Two weeks later, the Jets are in snowy Seattle, marching up the field on their opening drive. They're mixing up the plays, but are powering through the Seahawks' defense with dives to fullback Tony Richardson. And Mangini send the field goal unit on the field on fourth-and-short from Seattle's two-yard line.
His cautious decision against a team with nothing to lose set the tone that Sunday afternoon. New York lost and those three points were the only ones they would record all game. The defense applied no pressure and was gashed by a combination of backups and replacement players.
But his flaws were evident before December. Dropping a game in Oakland sent the signals flaring into the sky early.
The Mangenius was over-thinking the game. The Raiders—a team who couldn't stop the run—had just come off a beating at the hands of the New Orleans Saints, and the Jets couldn't stop them.
On a day where Thomas Jones rushed for nearly 160 yards, Mangini kept trying to surprise the Raiders by going to the air. The first two drives were spent with Favre in an empty backfield, going to the no huddle offense as if Oakland were a powerhouse that needed to be kept off-balance.
The Jets became the team to play when you needed to make a statement. The Chargers wanted to prove they were better than 0-2, the Patriots wanted to prove they could still win without Tom Brady, and the Broncos wanted to prove they were still an offensive powerhouse in rainy weather.
Narrow wins over the reeling Bengals and Chiefs don't help Mangini's case, either. His winning season could've easily been another losing one. And without making the playoffs, it certainly feels like it was.