Quote
Iverson: 'I want to finish my career in the NBA'
Posted on: June 7, 2011 4:31 pm
Edited on: June 7, 2011 4:51 pm
Score: 135
Log-in to rate: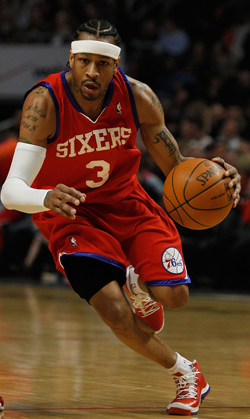 Posted by Royce Young

When Allen Iverson signed to play in Turkey last year, I think most people felt like me. Not like this, Allen. Don't finish like this. It was reality, though. Iverson's last couple of stints in the NBA fizzled out with a reunion in Philadelphia not working and a short stay in Memphis.

And when a calf injury cut his time short in Turkey, it appeared that the great basketball career of Allen Iverson would end with a whimper.

But in an interview with SLAM, Iverson said he hopes to get one more shot in the NBA.

"I want to finish my career out in the NBA, if that's possible," Iverson said. "And that's in any capacity. I did a lot of things, I made a lot of mistakes as far as my actions and things that I've said, and I think that was the reason for me not being in the NBA. My whole thing now in trying to get back is letting any organization know that I'm willing to play any part that they want me to play."

Iverson is 36 but says he's fully healed from the injury that caused him to miss most of last season in Europe. He went to Europe largely because he couldn't find an NBA team that wanted him -- and, more specifically, wanted him in the role that he wanted to play.

That's why the last part of what Iverson said is important. He's acknowledging that he'll play any role for any team. Now, knowing Allen Iverson, is that really true? Can he really be OK with playing the 10th man in a rotation and seeing maybe four or five minutes in a game? If he's serious about an NBA comeback, that's reality for him. Because like so many other players that have played deep into their 30s, he's going to have to re-invent himself as a player in order to extend his career.

It's probably unlikely that Iverson makes his way back to the NBA. But I'm sure he saw the way Shaq retired and how much attention was poured out there. Iverson likely wants a similar reception. Instead, he kind of became forgotten because of the way his career just sort of fizzled. Is there a fit out there for him? Obviously a team looking to draw some interest could give him a call, but I'm not sure there's a big demand for an aging, undersized guard who made a living in the NBA because he was quicker than everyone.

So it might be tough for The Answer to find an answer. But the fact that he's giving it a shot is at least admirable.
How is he not in the NBA right now is the question.