santana

:

(02 January 2017 - 02:19 PM)

but he would be ideal if the jets were to flush bowles out

santana

:

(02 January 2017 - 04:36 PM)

http://www.nj.com/je...trol_of_je.html
azjetfan :

(05 January 2017 - 09:54 PM)

Sean Payton will get another HC gig. Obrien would be good.
azjetfan :

(09 January 2017 - 11:18 PM)

Howard from Alabama seems legit. #88 TE
azjetfan :

(09 January 2017 - 11:20 PM)

Williams the WR from Clemson looks like they are out to get him. He has taken some huge hits
vjdbbq :

(10 January 2017 - 07:12 AM)

We'll take Williams in the first round .
Chadforpresi... :

(10 January 2017 - 10:48 AM)

I'd love Howard in the 2nd round if he's still there. I like Williams a lot as well, but I just don't see WR being big enough of a need, and there should be better talent on the board at 6

Jetsfan115

:

(10 January 2017 - 07:21 PM)

Raiders OC Musgrave not expected to return to OAK. what do you think about getting him? he did wonders with the oakland offense this year
Chadforpresi... :

(10 January 2017 - 07:39 PM)

Definitely an appealing choice given with his history of progressing Carr. We need someone with a track record of grooming young QBs
MikeGangGree... :

(12 January 2017 - 12:36 PM)

I want Watson now! after what he did Monday night I'm sold on him at QB. He moved the ball all night on Alabama and after hurts scored that TD he just told his team "Lets end this"

Jetsfan115

:

(12 January 2017 - 06:31 PM)

An Ohio prosecutor says he wants to know what punishment Cincinnati Bengals player Adam "Pacman" Jones faces from the NFL before deciding how to proceed over Jones' latest arrest, Dan Sewell of the Associated Press reports..

Hamilton County Prosecutor Joe Deters tells WKRC-TV he's asking "what is the normal" for a player with multiple offenses and who's been suspended before.

An NFL spokesman said on Thursday that Jones' case is "under review" and declined to comment further.

Jones was jailed Jan. 3 on charges he head-butted police and spit on a nurse after his arrest for assault. Authorities say he was so combative he had to be placed in a restraint chair.

Jones says he anticipates the charges will be dismissed.

Jetsfan115

:

(12 January 2017 - 06:32 PM)

we wont get watson. he's going 1st overall to the browns
azjetfan :

(12 January 2017 - 09:06 PM)

Is Watson a product of Clemson's staff and supporting cast? Taj Boyd also put up some decent numbers if I remember correctly but he couldn't even make a scout team in the NFL.
azjetfan :

(12 January 2017 - 09:11 PM)

From what I have read (although limited) he is not the highest ranked QB in the draft.
azjetfan :

(12 January 2017 - 09:11 PM)

"No quarterback in this draft -- not Mitch Trubisky, not Watson, not DeShone Kizer -- is considered a sure thing. The folks at Scouts Inc. rank Trubisky, Watson and Kizer as the 21st, 38th and 46th prospects on their big board, respectively." ESPN
azjetfan :

(12 January 2017 - 09:12 PM)

If we can get a decent return for Richardson we may be able to make a move into the mid teens to early 20s if the Brass really likes Watson.
azjetfan :

(12 January 2017 - 09:13 PM)

Personally I don't think the jets have a clue on who they will take. We still have to hit FA and manage our roster
azjetfan :

(12 January 2017 - 11:46 PM)

Jets to interview Broncos assistant Studesville for OC

Jetsfan115

:

(13 January 2017 - 01:28 PM)

Why? seems like a weird choice

Jetsfan115

:

(13 January 2017 - 01:29 PM)

Leonard Williams replacing Khalil Mack in Pro Bowl
Chadforpresi... :

(13 January 2017 - 09:49 PM)

I'm not buying Watson, even after that championship game. Dude threw too many picks in his day
Chadforpresi... :

(13 January 2017 - 09:49 PM)

I'm really curious to see what we get for Richardson, but I have a bad feeling his value is at an all time low between his crap season and bad attitude
azjetfan :

(14 January 2017 - 12:16 AM)

I agree. He is a first round talent but a fourth round headache. We will be lucky to get a 2nd
Chadforpresi... :

(14 January 2017 - 08:41 AM)

Yeah precisely. 2nd rounder would be a huge stretch. 3rd or 4th is more likely
vjdbbq :

(14 January 2017 - 02:18 PM)

Send Sheldon someplace he will never see the playoffs ; like Jacksonville ; then he will have time to find da ho's .
azjetfan :

(14 January 2017 - 07:25 PM)

R Sherman is getting torched by the Falcons.
vjdbbq :

(16 January 2017 - 09:37 AM)

Pats vs Pitt - root for injuries

Jetsfan115

:

(16 January 2017 - 12:36 PM)

GB-ATL game is gonna be a hell of a shootout. that throw rodgers made on 3rd and 20 with 12 seconds left in a tied game was ridiculous. 35 yards rolling out to his left a perfect placed ball on the sideline.
azjetfan :

(16 January 2017 - 10:50 PM)

Winters resigned to 4 year deal. $7 million per year
Chadforpresi... :

(16 January 2017 - 10:51 PM)

Seems like a slightly steep price but overall cool with it, he's turned into a good player and is still young. Just needs to stay healthy.

Jetsfan115

:

(17 January 2017 - 04:12 PM)

seems like a good deal. they were saying he could have earned over 8 million in the open market
vjdbbq :

(18 January 2017 - 08:12 AM)

Where's Rob ?
vjdbbq :

(18 January 2017 - 08:12 AM)

Is he looking for a new ass ?
vjdbbq :

(18 January 2017 - 08:12 AM)

vjdbbq :

(18 January 2017 - 08:13 AM)

Jetsfan115

:

(18 January 2017 - 01:32 PM)

4 years 29 mil 15 mil guarenteed. so 7.25mil a year for winters. a nice bargain. he took a hometown discount. seems like a good guy. well done winters and mac

Jetsfan115

:

(18 January 2017 - 04:33 PM)

Jets hire Dennard Wilson as defensive backs coach

Jetsfan115

:

(19 January 2017 - 04:01 PM)

Trump to name Jets' owner Woody Johnson U.K. ambassador
vjdbbq :

(19 January 2017 - 06:04 PM)

Maybe Woody will take the Jets with him to London . PLEASE PLEASE PLEASE

Jetsfan115

:

(20 January 2017 - 11:13 AM)

Mark Gastineau says he has dementia, Parkinson's disease and Alzheimer's disease
vjdbbq :

(Yesterday, 07:54 AM)

f***ing Pats again
vjdbbq :

(Yesterday, 07:54 AM)

Tom Brady

santana

:

(Yesterday, 03:00 PM)

If the pats manage to win again I hope they cow tip goodell right at the podium

Jetsfan115

:

(Yesterday, 06:00 PM)

in 2 weeks i'm gonna be the biggest falcons fan for a day LMAO
vjdbbq :

(Today, 08:13 AM)

Bill Belicheat
Page 1 of 1
You cannot start a new topic

You cannot reply to this topic
Ultimate Warrior Exposes Hulk Hogan

Basically he's going to put him on blasts of all blasts lol
Posted 09 June 2011 - 02:20 AM
ITS GOING DOWN BROTHER!
---
Posted 09 June 2011 - 12:45 PM
From Bret Hart's book.
Quote
I got to see exactly what kind of champion Warrior was during a show in Omaha. Propped up on a stretcher a few feet outside the dressing room was a Make a Wish kid who looked to be down to his last few hours. There was not a hair left on his head, and not even his Warrior face paint could mask his sad eyes. Sickly pale and barely breathing through a ventilator tube, the boy wore a purple Warrior t-shirt and green and orange tassels tied around his biceps to honour his hero. His mother and father and older brother and sister were with him, patiently waiting for the promised encounter with the Ultimate Warrior.

I bent over to say hello, as did all the other wrestlers on the way into the dressing room. It was odd, but there was Warrior actually sitting with us: he usually kept to himself in his private dressing room. By the time the third match started, a WWF public relations rep poked his head in and politely asked Warrior if he was ready to meet the dying boy. Warrior grunted, "In a fuckin' minute, I'm busy." I thought to myself, Busy doing what, talking to a bunch of guys you can't stand anyway?

As the night wore on the family waited just outside the dressing room door, the boy hanging on to his dying wish to meet his hero. As I was returning to the dressing room after my match, I was relieved to see that they weren't there any more; I assumed that the kid's wish had come true.

Warrior's entrance music played while Jim (Neidhart) and I quickly showered in hopes of beating the crowd out of the building. We'd have to hurry since Warrior never went over ten minutes. We dressed, grabbed our bags and took off. As we rounded a corner down the backstage ramp, we came upon the boy and his weary family, who had been moved there so not to get in the way of Warrior's entrance. I thought, That lousy piece of shit. He'd made them wait all night, unable to summon the compassion to see this real little warrior. Hogan, Randy, and countless others, including Andre never hesitated to take the time to meet a sick, dying kid. My disgust for Warrior magnified a thousand times. To me he was a coward, a weakling and a phony hero.
From seeing and hearing what other wrestlers from that era have to say about the Ultimate Warrior I can believe this. I haven't heard any other wrestler that worked with him say anything good about Warrior.
FlyHiJets, on 01 June 2013 - 08:35 PM, said:
You're the scumbag that thinks everyone should kiss the as$es of a bunch of criminals but I'm a dumbass. Yeah okay douchebag. Go give some illegal wetback or Revis another blowjob. But then again.....don't you live in an entirely different country but yet think you can tell us how to live? Go fvck yourself little boy. You're likely still living with mommy & daddy. Pu$$y.
azjetfan, on 02 July 2014 - 03:36 PM, said:
There are a few things I have realized about Mr. Jet over a few topics.

1) He is a racist. By constantly using race as a battling tool.
2) He is an extreme Liberal. If you are on either extreme you are probabaly more wrong than right.
3) He is one of those people who will never admit fault, error or defeat.
4)His life sucks and he takes it out on people who don't share in his views.
---
Posted 10 June 2011 - 02:38 PM
You think there is bad blood between
Warrior and Hogan ?

" Using No Way as Way, Having No Limitation, as Limitation" - Bruce Lee


"You must show no mercy nor have any belief
whatsoever in how others judge you ,
For your greatness will silence them all !"
-Warrior
---
Posted 01 July 2011 - 12:16 AM
Just wanna leave this here....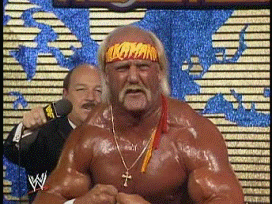 ---
Posted 06 July 2011 - 10:57 AM
Deadspin
28,544 views, Jul 3, 2011 11:30 PM
---
Page 1 of 1
You cannot start a new topic

You cannot reply to this topic
---
1 User(s) are reading this topic

0 members, 1 guests, 0 anonymous users