So, it appears Bart Scott will be back for another year of the media rodeo also sometimes know as the New York Jets football organization. Of course, Mr. T has told us before that he expects players back and in camp...always seemingly right before their nameplate gets ripped of their locker at the Jets Atlantic Health Training Center.
For now, let's assume Scott is dressed in a Hess gas station attendant uniform for 2012. It's also a pretty safe assumption this would be Scott's last year with the Jets, for reals this time. So, the question now is who succeeds Scott as Kronk to David Harris' Yzma (Emperor's New Groove reference, no big deal).
Inside backers in a 3-4 are generally easier to find in the mid rounds, particularly the Kronk style thumpers, as they can succeed in the NFL despite ideal speed or athleticism. Some examples are Desmond Bishop in Green Bay (6th round), Jameel McLain (UDFA), San Fran's NaVorro Bowman (3rd round), Houston's Darryl Sharpton (4th round), and Brandon Siler (7th round).
So, who are the Kronks in this year's draft?
Luke Kuechly
is the most talked about ILB in this year's draft, but quite frankly he is more of Yzma, if he even belongs in the 3-4 at all....aaannddd a sure fire 1st rounder.
Dont'a Hightower
is as Kronk as it gets, but he is probably a 2nd rounder, and a little too rich for the Jets blood at this point.
Realistically thinking 3rd round and on...
Mychal Kendricks - Cal - 5'11" 240
- A little shorter than ideal, but Kendricks surprisingly killed it at the combine, pacing all linebackers in most events. Before the combine I thought you could get Kendricks in the 4th or 5th round, based on his solid play in the middle of Cal's 3-4 defense. But now, his stock is on the rise and it's possible he even sneaks into the end of the 2nd round (where I think it's too early to take him).
Ronnell Lewis - Oklahoma - 6'2" 255
- This freight train has speed and strength to spare, but has had an up and down college career with spotty production. He actually lined up as a DE/OLB in college, but I think he might actually make a good 34 ILB. He wasn't an overly productive pass rusher, but he has the size and willingness to smack people around on the inside. It's hard to judge his stock, and could fall anywhere from the 2nd - 4th round range. Editor's Note: Please don't get too excited about the no-homo, football man crush, half naked while running photo.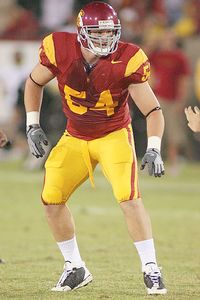 Chris Galippo - USC - 6'1" 240
- Old school Kronker who can't cover to save his life (or starting job). He reads and reacts well, can take on blockers, and generally knows his craft. Galippo is probably a late round or undrafted free agent, but he could find a home as a 34 ILB that can diagnose quickly and take on blocks.
Vontaze Burfitct - ASU - 6'1" 250
- I'm pretty sure everyone knows his story. All I'll say is he's worth a late round pick to see if that powerful energy he has can be bottled up and thrown molotov cocktail style at the opposing offense.