We all know the Jets need a coverage safety badly. They needed one last year, and it obviously hurt the team. After getting burned by Reggie Nelson, the Jets are left hurting in the defensive backfield. We don't know whether the Jets wanted to sign both Nelson and Landry, but for now they are left with just Landry and Eric Smith back there. In short, the Jets still need a major upgrade with a safety capable of covering the deep middle and sticking with Tight Ends.
They've about exhausted the options in free agency, so the Jets are almost certain to draft a safety, probably early, in this year's draft. Problem is, this draft is pretty weak for safeties, at least at the top. There are, however, some interesting mid-late rounders who could develop into nice players...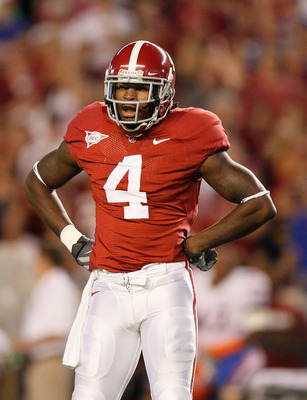 Mark Barron - Alabama - 6'-1" 210
- Barron has a solid skill set across the board for a safety prospect. The only thing keeping him from being considered elite is he lacks one standout tool. He isn't a speedster, or a massive enforcer...but, he is plenty fast and plenty big. Barron would be a great fit for the Jets, even with the signing of LaRon Landry, Barron is competent enough to handle the coverage duties of a FS.
Harrison Smith - Notre Dame - 6'-2" 215
- Smith is physically, the picture of the perfect safety. He's a big, tall, strong safety with solid speed. While solid in run support, he has tight hips that limit his coverage ability. He reacts well and takes proper angles though, allowing him to still provide solid zone coverage. The question will be whether he has the man coverage abilities to stick with the Gronkowski, Jimmy Graham, and Friends.
Duke Ihenacho - San Jose State - 6'-0" 210
- Duke is an interesting prospect, with a nice combination of size and speed. He is great coming up and supporting the run, and has the athleticism to stick with TE's in coverage. He still needs work on his technique, which can hopefully be cured with better coaching, specifically his footwork and angles. All told, this mid round prospect could turn into quite the steal with a little development.
D'Anton Lynn - Penn State - 6'-0" 206
- You can bet D'Anton, son of Jets RB coach Anthony Lynn will find his way to the Jets roster. A larger corner in college, his average cover skills and decent tackling ability will most likely signal a move to safety at the next level. The Jets have shown a willingness to draft friends and family (see Donovan Warren and Scotty McKnight), and could very well spend a late round pick on Lynn or pick him up as an UDFA.
Tony Dye - UCLA - 5'-11" 210
- Dye came into his senior season on many preseason award watch lists, in the eye of draftniks, and looking to make a big impact taking over the lead in a UCLA secondary that just lost Rahim Moore as a 2nd round pick of the Denver Broncos. However, Dye suffered a pinched nerve in his neck and missed 7 games, than returned and suffered a leg injury in his first half back. He is healthy now, and participated in the NFLPA All-Star game and had a good showing at the UCLA Pro Day. Dye had been a SS for the Bruins and led the team in tackles in 2010, however he has the speed and athleticism to be an interchangeable safety, and was expected to take over the FS role in 2011 following Rahim Moore's departure. All told, in my opinion Tony Dye is a great late round pickup and with the chance for a huge upside.