This draft is as deeeeeep at the WR position as I imagine any draft has ever, or will ever be...ever. It doesn't have the elite talent at the top, Justin Blackmon would probably be drafted after last year's Julio Jones and A.J. Green. What this draft does have is the mid round prospects who are a great slot receiver, or a tall red zone target, etc. I would be very upset if the Jets don't draft a WR at some point in this draft. There are simply too many solid prospects available in the middle rounds to pass on this opportunity.
For the sake of time, and because I just don't care that much, I'm going to give two word descriptions for the top 5 prospects...you all know them anyway.
Justin Blackmon - Routes & Hands
Michael Floyd - Big & Deep (Relax ya perverts)
Kendall Wright - Little Speedster
Stephen Hill - All Potential
Rueben Randle - f***ing Inconsistent
For the rest of them, I have grouped them into 3 overly simplistic types of WRs, Possession, Slot, and Deep Threats. Obviously, it is all more complicated than that, but it instantly gives you a good idea of what each WR brings to the table.
Enjoy.
POSSESSION
Alshon Jeffery - 6'3" 215
- Fatty has some of the best ball skills in the draft. He can go up and get it with the best of them. Unfortunately, his speed sucks and he will have trouble creating separation at the next level. He is a good, not great route runner...and with his size and lack of suddeness this will likely always be the case. Jeffery could be a good compliment to Holmes and Kerley's shiftiness, and some teams might look at converting him to TE.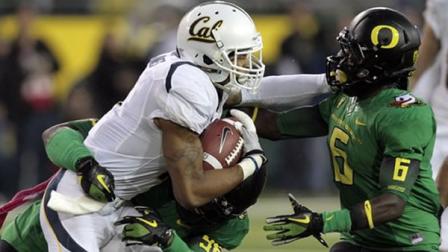 Marvin Jones - 6'2" 200
- Understands the game, does the little things well. Jones has quick little feet and short area quickness that he uses to get around defenders and make them miss. He has great hands, but also lets some balls get into his body he shouldn't...that being said he doesn't really drop any so it's hard to critique. He can use his size and leaping ability to win some deep jump balls, but he isn't a speedster and will make his living running the short-intermediate routes. Bonus: His name will roll nice and easy of the tongues of Jets fans.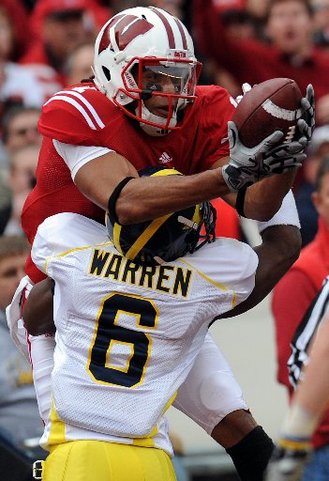 Nick Toon - 6'2" 215
- Son of Jet great Al Toon, Nick's career probably won't be as celebrated. A solid prospect none the less, he is a crafty route runner, and uses his size well to box out defenders. Toon is oft-injured though, and his bruiser style doesn't do him any favors in this department. He is also a solid blocker, albeit not as good as his size would indicate. Bonus: Photo is of Toon catching the ball over former Jet camp fodder Donavan Warren.
Marvin McNutt - 6'3" 215 -
See:
http://nyjetsfan.com...showtopic=36432
. Sorry, told you I was lazy. One other thing, he is supposedly a great leader and hard worker, receiving several team awards. Bonus: Deep pass catch phrase for Marvin could be, "Busting a McNutt wide open!"
SLOT
Ryan Broyles - 5'10" 190
- The all time NCAA leader in receptions (#2 in yards) unfortunately tore his ACL midway through his senior season. Broyles is your prototypical slot receiver: good routes, qood lateral quickness, good hands. Broyles was never a burner, but he still has to hope his speed isn't too affected by the ACL tear. He hasn't worked out yet due to the injury, but has a pro day scheduled. That workout will go a long way in determining his draft stock. With a good workout he could see the end of the second round, with a sub par workout teams will be afraid of his recovery and that could push him down to the later rounds.
A.J. Jenkins - 6'0" 190
- Jenkins does everything well. He is a smooth athlete that can create separation with quickness, but can get pushed around a bit due to his smaller size. A solid hands catcher, Jenkins is also tough enough to work the middle and secure the ball while taking a hit. Jenkins has been very productive, catching 90 passes for 1,276 yards and 8 TDs this past season. The only question to me, and the only thing keeping him from being considered a much better prospect (other than his lack of size), is that some question his effort. He seems to take off plays and give inconsistent effort. Note: I've slotted Jenkins with the slot WR's mainly due to his size and shifty route running, but he has the speed to threaten deep.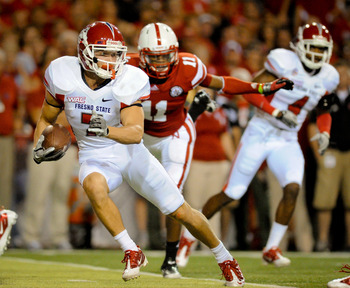 Devon Wylie - 5'9" 185
- Wylie is another prototypical slot receiver, only with great speed, as he blazed a 4.39 at the combine. The problem for Wylie isn't his ability, it's his inability to stay healthy. He has missed time in 2008, 2009, and all of 2010 due to injury. He is also a shorter, smaller wide receiver. But, Wylie is a naturally gifted route runner (though he could use some polish in this area), has great hands, and can threaten any point on the field (screen, middle, deep, etc). Bonus: Return skills.
T.Y. Hilton - 5'9" 185
- Another of your small but fast slot guys. Unfortunately, I think T.Y. Hilton used his superior athleticism to run around lesser opponents playing for Florida International. He does have a good burst, and was an exceptional return man in college...but he will need a bit of coaching and polish and will likely never be more than a special teamer and occasional gadget player. Perhaps I should have grouped Hilton with the deep threats, but due to his size I think he will need to develop his short-intermediate routes to be successful in the NFL.
DEEP THREATS
Tommy Streeter - 6'5" 220
- A one year wonder, it's very hard to judge Streeter's pro potential. He has a great combination of height and speed, posting a 4.4 at 6'-5". Streeter's senior year saw him become a lethal deep threat, but he still lacks the technical skills of a WR. His one year wonder could be due to a lot things, mainly the change in coaching staff this past season, but it is still a big red flag. I think Streeter is a solid value in the 5th or 6th round, but could possibly go much earlier and therefore probably not worth it in a draft this deep at WR.
Travis Benjamin 5'11" 175
- A true big play threat (and skinny bitch), the hope is Benjamin could be like DeSean Jackson...the reality is probably a lot less. Benjamin has true speed, clocked at 4.36 at the combine, and unlike a lot of players also plays up to that speed in games. He has the athleticism to run great routes, but for now we'll call him a "solid" route runner with room for improvement. He is willing to go over the middle, but isn't overly effective here. Benjamin's biggest obstacle is his hands...he lets the ball into his body way too often, but he can track and adjust well to the ball in the air. Bonus: Excellent return man. Double Bonus: Killer Dreads.
Some more players you can look up on your own damn time...
B.J. Cunningham

Mohamed Sanu

Juron Criner