Quote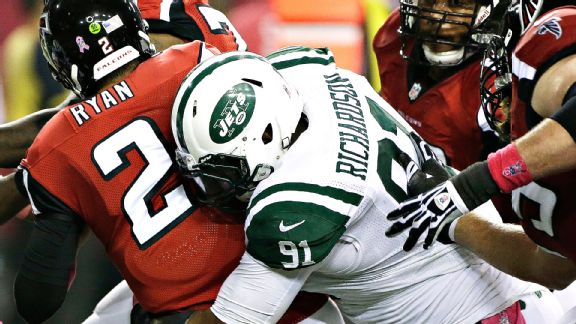 After Week 5, Sheldon Richardson leads a deep class of good rookies
Updated: October 10, 2013, 12:29 PM ET
By Mel Kiper Jr. | ESPN Inside
I gave the Jets a good grade in my 2013 NFL draft grades, but I heard a lot of questions about their strategy. People asked about things such as why no quarterback was taken in Round 1, why there was no skill-position talent like WR Tavon Austin (who was drafted by the Rams), and why no new tight end was selected. My conclusion was, "I still think they deserve a pretty good grade for hitting a few big needs. Now, they need to be patient with QB Geno Smith."
And the Jets did hit big needs. But it turns out they couldn't afford to be patient with Smith. The good news is, he continues to rise in my Rookie Rankings, and an efficient 16-of-20, three-touchdown performance on "Monday Night Football' shows another stage in his progression.
But they still better be patient. A few reminders about how I approach on the rankings:
• The rankings reflect play over the whole season, not just the previous Sunday.
• Positional value matters, but overall performance and impact on the team matter more.
• I'm asking: Would this player be a starter on most teams? (I think that hurts QBs some).
• Total snap count matters. Great plays matter, but staying on the field is important.
With those rules in place, let's jump into the rankings after Week 5. There are 21 players listed in all.
Richardson
1. Sheldon Richardson, DT, New York Jets
So far, the Jets lead all NFL teams in run defense, allowing just 3.0 yards per carry, and Richardson is one of the main reasons why. He's been consistently disruptive, showing tremendous quickness and athleticism, eliminating the chance for blockers to move him and then getting to the second level. I also like his versatility -- we've even seen him line up as a fullback on offense down near the goal line. So far, the first interior lineman taken in the draft has lived up to the billing. He also has 2.5 sacks.
Alonso
2. Kiko Alonso, ILB, Buffalo
Love his production, fiery approach and the number of impact plays he's been able to make. For instance, Alonso is tied for the NFL lead in interceptions (four) but is also leading the Bills in tackles with 44 (he also has a sack). He's one of the best pure athletes (if not the best) of any inside linebacker in the NFL right now. The key with Alonso is that because of his versatility, he never has to come off the field.
Vaccaro
3. Kenny Vaccaro, S, New Orleans
I'm giving him some bonus points, because while he's made his share of mistakes and taken some poor angles, he is staying on the field and has helped the Saints orchestrate one of the great defensive turnarounds we've seen in recent years (assuming they can keep this up). Vaccaro isn't asked to do much against the run but is instead playing a lot of deep patrol. Still, he's second on the team in tackles and has recorded a sack and an interception. While he was beaten deep late in the game on Sunday against Chicago, his overall performance through the first five games has been strong.
Ansah
4. Ezekiel Ansah, DE, Detroit
He leads the Lions' defense with 3.5 sacks and is quickly becoming a fear factor-type player because the offensive always has to account for him. That said, his best work hasn't even been done as a pass-rusher -- he's been good against the run, too. His pass rush is inconsistent, but he just needs to learn. He's only going to get better with more experience; despite his age (24), he hasn't played much football yet.
Smith

5. Geno Smith, QB, New York Jets
He has had ups and down and has turned the ball over too much, but that's what you expect from a rookie. However, he's shown poise, has never lost his confidence, is gaining respect from his teammates, and has come through in the clutch, rallying the Jets with two late fourth-quarter drives to pull out victories against Tampa Bay and Atlanta. The Atlanta victory, in particular, was a signature win because his late play was just the icing on top of a performance with great statistical efficiency. And let's remember: He's operating without a top-flight supporting cast, yet has been able to show nice progress. He's mixed a good deep ball with savvy as a scrambler.
Bernard
6. Giovani Bernard, RB, Cincinnati
He's been a key element in their big wins against Green Bay and New England, displaying the all-purpose talents that make him so valuable. When the Bengals drafted him, we knew a big reason why was because they wanted a back they could throw to. Bernard is currently leading the Bengals with a 4.6-yard average per carry, but he's also hauled in 14 receptions for a 9.2-yard average.
Mingo
7. Barkevious Mingo, OLB, Cleveland
He didn't record a sack against Buffalo in his most recent game, but Mingo turned in a solid performance, and he is improving after missing much of the preseason. He recorded a sack in each of the three previous games, showcasing cat-like quickness and a sustained intensity level. Mingo is still more athlete than polished pass-rusher, but he could have a big second half of the season, because once he learns to counter more off his initial quickness, he's going to be really difficult to block.
Warford
8. Larry Warford, OG, Detroit
Although I didn't grade him out as high this past week against Green Bay as in the four previous games, Warford has done a very solid job overall for the Lions. He doesn't give up any inside pressure in the passing game, and he can get a push in the run game, with the power to move defenders. He'll get better, and he's off to a great start.
Lotulelei
9. Star Lotulelei, DT, Carolina
He drops some just because he hasn't been on the field as much as some others, but he also got to sit a lot during a blowout win against the Giants, and Carolina has already had a bye. During the 150 snaps he's seen so far, Lotulelei has proven to be the block-occupying run-stopper he was drafted to be. Carolina is allowing just 3.6 yards per carry, a clear improvement from last season, and Lotulelei is a big reason why.
Mathieu
10. Tyrann Mathieu, S, Arizona
He has a knack for impacting a game in a very positive way. His instincts are top-notch. Against Carolina on Sunday, he recorded five tackles (all solo) and also made his presence felt behind the line of scrimmage. He had a sack, a tackle for loss, and a pair of QB hits. He's stayed on the field regardless of down and distance, is second on the team in tackles, and can play either deep or close to the line. So far, the Honey Badger looks like a third-round steal.
Hopkins
11. DeAndre Hopkins, WR, Houston
Two weeks ago he was the top rookie here, but he's cooled off some the past two weeks, with just four total catches for 50 total yards. He'll need to find a way to create more space against good defenses, which is what he saw against Seattle and San Francisco. He has 22 catches and 293 yards so far, and has the skill level to become a Pro Bowl player.
Reid
12. Eric Reid, S, San Francisco
He dropped an easy interception against Houston but played very well overall. He's fourth on the team in tackles, has a pair of INTs, and is another young safety who doesn't come off the field. The 49ers moved up to draft him out of LSU, and they clearly had big plans for him when they did.
Ogletree
13. Alec Ogletree, OLB, St. Louis
I'd like to see more game-changing plays from a player with his talent and explosiveness, but you can't deny the fact that he's been around the ball. He's tied with James Laurinaitis for the team lead with 36 tackles (32 of Ogletree's have been solo tackles). The key for Ogletree is pursuit and fundamentals. He can overpursue and fail to get into good position for tackles, which is why he's missed more than a handful. But he'll get better.
Thompkins
14. Kenbrell Thompkins, WR, New England
He's had a few drops along the way, but the undrafted free-agent find out of Cincinnati is second on the team with 18 catches for a 15.2-yard average, and he leads the team with three TD receptions. I'm actually giving Thompkins a little more credit than his numbers might imply, based on his targets. Tom Brady has thrown to him 44 times, and the tape shows that Thompkins can create space to get those targets. He just needs to haul in a few more of them.
Williams
15. Terrance Williams, WR, Dallas
After a messy start to the season, he's been really coming on of late, and he could be a star of the not-too-distant future if he becomes a little more consistent. Over the past two games, he has 11 catches for 222 yards. Tony Romo is warming up to the rookie now that Williams has a better idea of where he's supposed to be on the field.
Next up
Andre Ellington, RB, Arizona -- Averaging 6.7 yards per carry, and is a factor in the passing game.
Travis Frederick, C, Dallas -- Has been strong after some early struggles. And he's healthy.
D.J. Fluker, RT, San Diego -- Has held up well as a pass-blocker, though his rep is as powerful run-blocker.
Robert Woods, WR, Buffalo -- Had chemistry with EJ Manuel. Will he get targets now that Manuel is injured?
John Jenkins, DT, New Orleans -- Overshadowed but effective on the revamped defense.
Kawann Short, DT, Carolina -- Needs more playing time, because he gets to the QB when he's on the field.